It lies is an ancient atmosphere Enshu country called Little Kyoto,the village with a large Podocarpus Nagi tree is alive and breathing with the heart of mountain valley.The site is in old urban and embracement by immenseness Nagi where people pilgrimage his foot with the guardian deity of passage and path.
Surrounded by low to medium height hills in three directions while running Otagawa River in the middke of community,the town of Mori is called Little Kyoto of Enshu county.
Amenomiya Jinjya Shrine is bracingly enshrinement with the location that is in an outstandingly emote antiquity by haaving Otagawa River in east,Seiri River for west and gently rolling hill of Amenomiya.
  Tagorihime-no-mikoto.
  Tagitsuhime-no-mikoto
  Ichikishimahime-no-mikoto
The deity of Amenomiya Shrine is Michinushi-no-Muhi and such diadem "Muchi"is an honorific title for THE HIGHEST_NOBLE AND STATE OF GOD within Shintoism where no others but given only three prominent shrines in countrywide(by Nihon Shoki or Chronicles of Japan).
There,this deity is truly supreme for every single and spiritual or physical path of all,featuring traffic and transporation safety and healthy ways of living,merry fate of couples and marriages,creditable prosperity;you name it,in any event which related to the pathway of for every human being if not anything available earthbound.
History of Amenomiya Shrine is backdated at the period of the 29t.Emperor named Kinmei(539to571)
and begab where Lord Ota and Lord Moriya,both were the descendants of Yamatotakeru-no-mikoto,who paid a visit to the ruins of their ancestor here at Amenomiya then created the site with respectful worship as a god by receiving the the divine spirit from Munakata Taisha in Chikushi
(in Fukuoka,kyushu).
Prefecturally Designated Important Cultural Property.
Repaired the front area of "Amenomiya Enlightened Deity"in 17th. Year of Tensho Era(1589)by an order ieyasu Tokugawa who created the dominant Tokugawashogunate goverment in EDO Era(1603 to 1867).
Constructed in the 4th.Year of Kanei Era (1627) initially
Full scale construction in the 10th.Year of Genroku Era(1697)by the direction of Shogun Tsunayoshi Tokugawa while commanded by governmental master builder named Kora Buzen Muneyoshi.
*shingled roof, however changed to cypress bark roof at the time of restoration in 2nd.Year showa Era 1927.
In the 25th.Year of Heisei Era(2013),large scale repair works took place due to disaster by fallen trees hit the structure when typoon attacked the area,then original shingled roofhas been restored taaking this occasion.
Evergreen tree in the podocarpus family and is adioecism.Sacred tree is a male tree with its age about 1300years and 4meters across at eye level  girth along with its height as 14.4meters.
According to legend,the ancestor of priest named Ukyo Nakamura hand carried asapling Nagi from Munakata Taisha to Honor commemoration of primary Amenomiya Jinjya.
Within the fact certified story in KanseEra(1789 to 1800),tells that the tree became dying whereby the 66th.Priest Taretaka Nakamura purified it and resulting that new and young buds came out then grew up high thus referred to as the sacred tree. Later,the trunk of tree became broken due to typhoon wind then rainwater suck into its stem and made a large cavity but the health of the tree remains vigorous.
"Such anobel tree,reserve it for a long!" It is the quote of an imperial Prince Komatsunomiya Akihito in june of Meiji 32th.Year(1899)who honorably pay reverence to this shrine where an extraordinary ceremony had held.Even a trimming of the tree fallen into a permission of prefectural governor since monumental designation.
Along with an old male sacred tree,there is a female tree at the left of sacred main shrine,forming an almosy symmetrical location. This female tree comes into bearing then it ripens and falls but gains fresh buds which means the strength of working of nature. Further,the leaves of this sacred Nagi tree are outstandingly sturdy and would never be torn off horizontally by hands.That,people,from ancient times,feels supernatural mystique as well as nature blessing over such strength of leaves whereby keep caarrying such leaf as talisman to be favored and fulfilled ever lasting pledges as well as auspiciousness and talisman against misfortune.
This tree leave is also an amulet for a conocord of married couples since the leaf would never be disown.
Sacred Nagi Tree has been registered as the Angel Power Spot of Fuji-no-kuni(means the place where Mt.Fuji is Located),Shizuoka prefecture.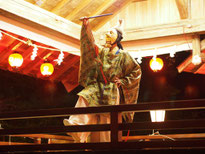 Following the creation of the shrine by the imperial court in the second year of Kyoto(705),Ayatari Fujiwara from Kyoto arrived as a priest and dedicated to dedication by kyo people,has been passed down as a cascade.
No1.  Enbu (延舞)    No.7 Ama (安摩)
No2   Shikiko(色香)   No.8 Ninomai (二の舞)
No.3  Teikochou(庭胡蝶)     No.9 Ryouou (陵王)
No.4  chouna  (鳥名)      No.10 Batou (抜頭)
No.5  Taiheiraku (太平楽    )No,11Nasori (納曽利)
No.6  Shinmaka (新靺鞨)     No.12 Shishi (獅子)
Perform the same in different places by having request,usually several occasion and locations.
Enumeration of Recitals
    1.Munakata Taisha :October16th.of Hesei 14Years(2002)
    2.Tsurugaoka-Hachimangu :November23rd.ofHesei 19Year(2007)
    3.Grand  Head  Shitennoji  Temple:December12th.ofHesei  21Year(2009)
    4.Shanhai World Fair(MainlandChina):August16th.ofHesei 22Year(2010)
    5.Ise Jingu(Geku):October18th.ofHesei25Year(2013)
    6.Coacting with Tokyo Gakuso(at Cultural Community Center of Mori-Machi):June 14th. of Heisei26
    7.Kyoto Nishi Cultural Center. September14th. of Hesei26 Year(2014)
    8.Isukushima Jinjya Shrine::October 10th .of Hesei27Year(2015)
    9.Shizuoka Gokoku Jinjya sShrine : October 22 th .of Hesei28 Year(2016)
   10.Tsurugaoka Hachimangu : November 23rd. of Hesei29Year(2017)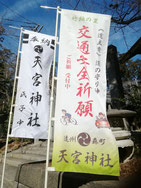 The god who protects our way
  The way of life
  Traffic safety
Leave your wishes to the god who keeps the way. 
Traffic Safety(Kotsu Anzen),  Ward-off and better luck(Kaiun Yakuyoke),  Family welfare(Kanai Anzen)
Prosper business will(Shoubai Hanjo),  Success for examinations(Gokaku Kigan),  Longgevity Pray(Chojyu Kigan),  lllness recovery(Byoki Heiyu),  Safe delivery pray(Anzan Kigan),  General devotions
Naming for newborns(Meimei)   First shrine visit for newborns(Hatsumiya Mairi)
Gala days for children(Shichigosan)  Weddings ceremony(Kekkon shiki)
Occasional pray like festivals
Purifying ceremony for building site (Jichin sai)   Ridepole raising ceremony (Jotoshiki)
Other site Praying